M2M SABRE Satellite terminal BGAN for offline use on open space without human intervention

The SABRE Range M2M is a BGAN M2M (machine-to-machine) terminal with a ruggedized mechanical enclosure build for long term outdoor all weather installation. It is designed for SCADA applications in remote unmanned location. The firmware is specially designed such that it can provide reliable and stable BGAN connectivity continuously for long period without user intervention. To ensure that users are always in control of SABRE Ranger M2M, Addvalue developed features that enable users to control the terminal remotely: the PDP context of the SABRE Ranger M2M can be activated or deactivated remotely via SMS; in times when users need to reboot the terminal, the rebooting process can also be initiated via SMS; the terminal can be configured remotely using SMS commands; and logs can be retrieved remotely for debugging. The SABRE Range M2M also comes with a mounting frame that's specially designed for easy antenna pointing.  
MAIN FEATURES
► 
 Remote configuration and debugging
► 
 24/7 Always-On Capability
► 
 IP watchdog for fail-safe operation 
► 
 PDP activation/deactivation via SMS
► 
 Selected settings via SMS
► 
 Reboot terminal via SMS
► 
 Single unit with integrated antenna (all-in-one)
► 
 Ruggedized (IP65) mechanical enclosure for prolonged outdoor harsh weather installation
► 
 NEMA Type 4X Corrosion Resistance
► 
 Enhanced Vibration and Shock Resistance 
► 
 Class I Div. 2 and ATEX Zone 2, Group II, Category 3
► 
 Over-the-air firmware upgrade 
► 
 Secure Remote Access restricted with authorized numbers.
Inmarsat Service Features
► 
 Qualified for special Inmarsat M2M pricing plans
► 
 No connection charge (Unlike BGAN which charges 200KB)
► 
 No charge for over-the-air firmware upgrades
► 
 Billing increment step size: 1KB (Compared to BGAN which is 10KB)
BGAN M2M for SCADA
The SABRE Ranger M2M brings BGAN M2M technology to the field of remote unmanned SCADA applications. It comes with an enhanced firmware that provides reliable continuous 24/7 operation and connectivity with the BGAN network. 
All Weather
With IP65 and NEMA Type 4X compliance certifications, the terminal is fit for long term outdoor installations in all weather conditions.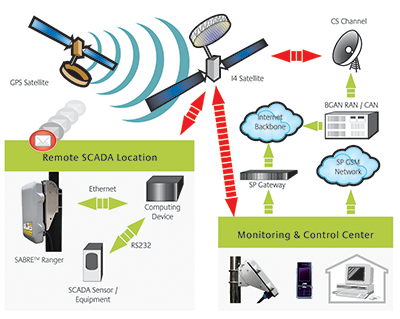 Technical Specifications 
Receive - 1525MHz - 1559MHz
Transmit - 1626,5MHz - 1660,5MHz
Type - Built-in patch antenna
Receive - 384 kbps (Max)
Transmit - 240 kbps (Max)
Integrated GPS receiver and antenna 
Standard IP, SMS
Ethernet connection (RJ45)
RS232 (DB9) 9600 bps with 10m Multi-function cable
Over-the-air or via Ethernet RJ45
► 
Supports 3GPP AT commands
► 
Operating System Support 
Microsoft Windows
Linux
Mac OS
Operating Temp:
-40°C to +75°C

-40°F to 167°F
Operating Humidity:    95% (Non-condensing at +40°C or 104°F)
Storage Temp:    -40°C to +80°C, -40°F to +176°F
Storage Humidity:   5% to 95% (RH)
Water & Dust:  IP65 compliant 
DC Input: 12 to 18Vdc Min 2A
Receive: 6 W
Transmit mode: 22 W
1.5 Kg / 3.3 lbs
305 x 186 x 49 mm
12 x 7.32 x 1.93 in
Up to 100 mph
Certification of Compliance 
► 
Inmarsat Type Approval
CE
FCC
IC (Industry Canada)
CSA (Safety mark - cCSAus)
NEMA Type 4X
RoHS
IP65
Class I Div. 2 and ATEX Zone 2, Group II, Category 3 Certified. 
Global Coverage & Service With Ground Control service, BGAN terminals may connect anywhere on the globe except for the poles. If you are within one of the three colored regions, you may connect at broadband speeds, as well as make and receive phone calls from anywhere. 
Today there are three BGAN Satellites that give contiguous worldwide coverage. 
Each I-4 can generate 19 wide beams and more than 200 narrow spot beams. These can quickly be reconfigured and focused anywhere on Earth to provide extra capacity where needed. 
Excellent In Stormy Weather Since a BGAN terminal uses the "L" band for reception and transmission (the L band has a very long wavelength), it is able penetrate through clouds and other atmospheric condition far better than large satellite dishes.