Iridium Pilot
is the 2012 successor to the popular maritime Iridium OpenPort terminal. The Pilot is designed to operate in extreme sunlight, frigid weather, high winds and rolling seas. Iridium Pilot provides broadband Internet data and high-quality voice in one low-cost platform. With 100% pole-to-pole coverage, the Iridium Pilot will keep any ship connected anywhere on the globe.
Powered by Iridium OpenPort broadband service
For ships large and small, the Iridium OpenPort broadband service offers highly reliable broadband voice and data communications priced to fit any budget. Connected to the world's largest and only truly global commercial communication network, providing pole-to-pole coverage for ships at sea, it works everywhere on the planet.
Global Coverage and Connectivity
Iridium Pilot is connected to the world's largest and only truly global commercial communication network, providing pole-to-pole coverage for ships at sea. Iridium Pilot is proven technology that works everywhere on the planet.
Looks After The Crew
Iridium Pilot's three independent phone lines increase retention by helping you keep the crew happy - there's no need to line up to call. Flexible and affordable prepaid options allow calling even at peak times (calling prices are identical at all hours).
Industry Leading 5 Year Warranty - FREE
Iridium Pilot is backed by the Iridium Global Service program, an industry leading five-year limited manufacturer's warranty (one-year accessories) which offers exceptional value and peace of mind, and is backed by around-the-clock shipboard service at over 60 shipping ports worldwide. Iridium's Global Service Program keeps your maritime communications ship-shape at all times.
Iridium Pilot
customers receive Iridium's worldwide pole-to pole coverage, unmatched network quality and world-class technical support.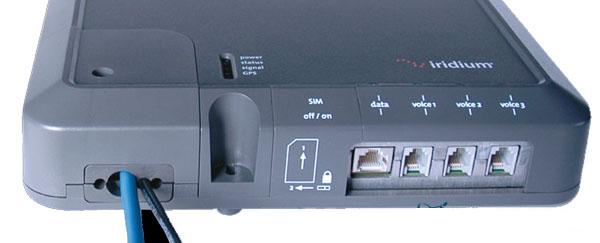 The Iridium Pilot below-decks unit contains three RJ11 jacks, enabling users to make up to three simultaneous voice calls, even during data transmission – no more waiting for a free phone line to make a call. Crew calls are easily separated from ship's business calls for simplified accounting. Crew members are assigned individual "Go Chat" cards that cost $0 a month for a usage only service (a deposit may be required for $0 plans).
Iridium Pilot utilizes true IP technology to provide a flexible and powerful array of data services. A single Ethernet port provides a connection to a standard PC or to a router or hub for multiple PCs. Choose from a range of configurable data rates to meet your specific requirements. Engineered for simultaneous functionality, data and phone ports support higher volume usage.