VoIP GSM Gateway - HG-4000 Series

A VoIP GSM gateway establishes cost-effective connection between cellular networks and VoIP. Used for: Fixed-Mobile convergence, LCR, wireless local loop, and business continuity.
Hypermedia modular VoIP GSM Gateways range from 4 up to 72 GSM channels; developed for interconnecting a wide selection of signaling protocols, including ISDN SIP & H.323, to the GSM cellular networks to significantly reduce the cost of organizational telephone calls
System Features:
Capacity:
Systems from 4 to 72 GSM channels (and/or CDMA)
Up to 72 VoIP channels (SIP / H323)
1 SIM or MultiSIM; 4 SIM cards per port
Configuration:
Bi-directional calls (Inbound and Outbound calls)
LCR functionality
SMS support (optional)
Integrated antenna combiner
PBX Compatibility: with IP systems of leading manufacturers worldwide
Chassis:
Available 3U x 19" or 6U x 19" size
Rack-mountable design
Redundant power supply (optional)
Management & Control:
Remote web-based- Local serial port
High voice quality
Fast and easy installation

Multi-Platform Compatibility
Our VoIP GSM gateways are Asterisk, Cisco and Quintum compatible GSM Gateways, i.e. such telecom equipment configured with a VoIP GSM Gateway from Hypermedia will be able to originate calls from the existing phone system to the GSM networks, as well as receive calls directly from GSM.


Intelligent Connectivity to PSTN
By installing one of our GSM VoIP Gateways, organizations can gain further cost savings by adding an integrated PRI card for PSTN connectivity (as a gateway to PSTN landline networks too).




For Corporate Business:
Powerful Telephony Cost Saving Tool
Save on Fixed-Mobile call costs
Reduce national & international GSM call costs
Cut infrastructure and telephony costs in a Multi-Office environment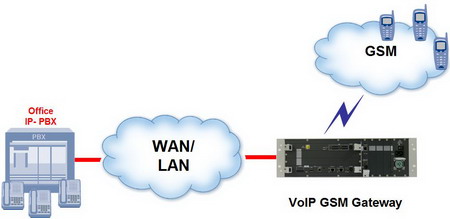 Hypermedia's VoIP GSM Gateways HG-4000 are professional, business-grade VoIP (SIP / H323) GSM gateways designed to reduce the company phone bill by connecting IP-PBX systems directly to the GSM wireless networks for benefiting from lower mobile-to-mobile outgoing and incoming call rates.


For Service Providers:
The demands for low cost world-wide call services over VoIP has emerged as a growing trend. The HG-4000 Call Termination System is an ideal solution for Alternative Call Terminators and Alternative Call Carriers who are looking to increase their existing activity, or looking to create new business opportunities.
Hypermedia's VoIP GSM gateway is a professional, heavy duty gateway with scalable 4 to 72 ports, suitable for terminating low to high volumes of mixed call traffic to both cellular and landline. The system is easy to install, and connects directly to IP-based systems via the existing IP/VoIP networks, or to non-IP systems via an E1/T1 PRI interface.